Planted in 1972 on loose gravelly soil, the tiny 3/4 acre dry-farmed Lake Vineyard is the smallest and coolest vineyard on the Estate.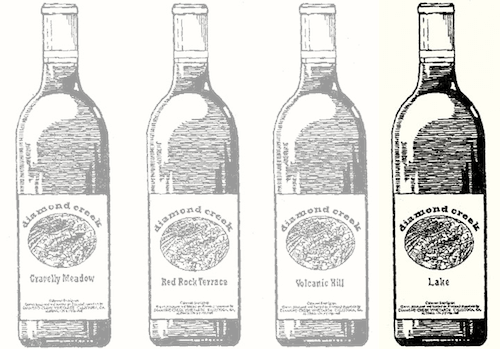 Lake shows beautiful red, black plum and cassis flavors, and fine tannins supported by a perfect thread of acidity.
A RARE WINE PRODUCED ONLY IN THE FINEST VINTAGES
Lake is Diamond Creek's smallest and coolest vineyard site, sitting at the western edge of the property on loose, gravelly soil. With its exposure to breezes coming through Mayacamas Canyon, this is the estate's coolest area, and the Cabernet Sauvignon here is extraordinary, benefiting from extended hang time on the vine. We only produce a Lake Cabernet Sauvignon in exceptional years, and the grapes are typically harvested more than a month from the beginning of vendange.
Microclimate: Cool/coolest
Elevation: 600 ft
Soils: Rocky, well-drained
Aspect: Relatively flat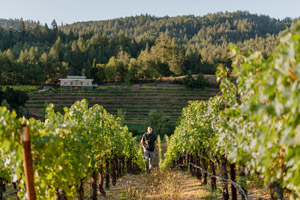 Planted in 1968 on light, fluffy, ashy soil, the Volcanic Hill Vineyard comprises approximately 8 acres of the Estate.
Volcanic Hill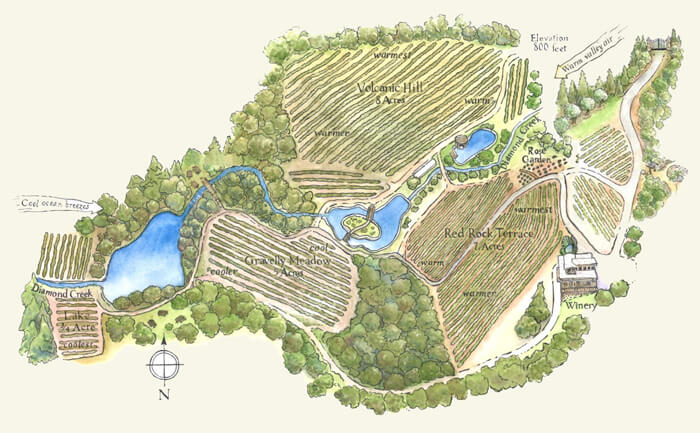 Ideally suited to growing Cabernet Sauvignon, our estate is divided into four distinct vineyards, each with its own terroir arising from different soils and microclimates.
Estate Map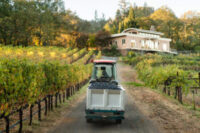 Diamond Creek Vineyards is an iconic Napa Valley estate with a long history of making some of California's most revered Single-Vineyard Cabernet Sauvignons.
Our Story